After Eatsa, the highly automated bowl concept, shut three locations to retrench, it looked like the modern-day automat was on the ropes. But as San Francisco startups do, the company has pivoted and has a new role as automation partner.
In a partnership with Eatsa, Wow Bao, the Lettuce Entertain You sub concept that specializes in steamed buns, dumplings, and rice and noodle bowls, will launch its first automated restaurant in Chicago. The first location is expected to open December 1 in the trending, upscale Gold Coast neighborhood.
Wow Bao President Geoff Alexander said he's been excited about the concept since inception.
"When I first heard about Eatsa opening in San Francisco, I jumped on a plane to come see it," said Wow Bao President Geoff Alexander.
The Eatsa platform looks a lot like an automat of yesteryear with a lot of futuristic polish. Customers order via several tablets and then wait for their name to pop up on a series of LED-lit cubbies. When the order is ready, the front of the cubby shows the diner's name. With a tap on the touch-enabled cubby, diners can then retrieve their food.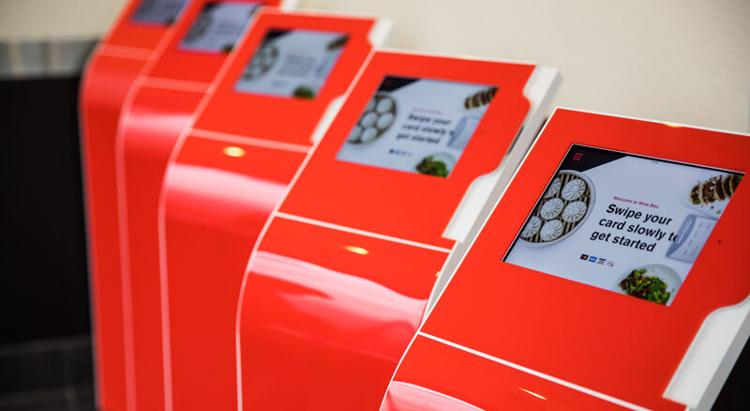 Eatsa CEO Tim Young said it's been a long time coming and the floodgates are just opening.
"Since we first started out—the first week—we've been getting inbounds from other restaurant concepts, quite frankly some major brands in the restaurant world," said Young. "At a certain point we started taking those calls and hearing people out and just entertaining them to see what was out there."
Since closing all but those two San Francisco locations that will continue to be operational test sites, he said it's been a natural pivot to a vendor relationship.
"We found that we could scale this product so much faster by tapping into the scale of these other restaurants, and we saw that this was probably a better path for us," said Young. "I think almost any brand in the fast food fast-casual space has a really good opportunity to deploy what we built to make the experience better for their customer to make their operations more efficient to bring their tech stack up to this day in age and get off some of the more antiquated systems many brands are using."
As the first partner to try it out, Alexander said it's no test; this is the future of the concept.
"It was a no-brainer to me. This is how the future goes," said Alexander. "I'm not looking at this as a test, this is business now, this is our prototype. This is far from a test for me."
He said given the brand's history with technology, it was an easy move. They installed self-ordering kiosks two years ago when Alexander first took over as the brand leader and there have been other technology updates. He already has plans for more Eatsa-empowered locations through 2018. He already has two leases signed and another three in negotiations what will feature the new technology suite.
The big question for many industry watchers is how Eatsa will change operations. But given Wow Bao's focus on efficiency already, he said there will be savings, but they won't be dramatic. Traditional locations require three to four people to operate, but with a smaller kitchen (he said they shaved off 100-200 feet in the new unit) and no counter, he expects it will run with two to four people.
Young said Eatsa, which has a more complicated menu than Wow Bao, generally has five to 10 people on staff during a typical lunch rush.
As for the build out costs, Alexander said it's essentially trading one cost for another.
"What happens now instead of a counter with plumbing and technology, now we built a wall with cubbies, that is an equal cost," said Alexander. "it's pretty close overall. We're satisfied with where the costs are on the first store and as with any prototype, the costs will come down as we build more."
Young said that was a chief motivation in developing the technology, keeping builds simple for efficiency's sake.
"What we've done is built frames around it to basically make all these fixtures that are really easy to drop into a build. Even when we were just looking at it form an Eatsa perspective. We wanted to make sure these were dead simple to drop in," said Young. "A general contractor doesn't have to understand what a cubby was at all, it's just a custom fixture."
One of the biggest concerns for employees was all that technology. But Young said since Eatsa is all one, modern, proprietary platform, it's easier than most traditional restaurants.
"When you've got a well thought out system, you actually end up having less complexity," said Young. "When you've got a 'Frankenstein's bride' with 10 systems talking to each other, it's really challenging for GMs to understand what's going on. But when you've got a seamless integrated system on the operator side and the right tools, we actually created—in my mind—a much more simple environment for people."
That enables employees to be out front talking to guests instead of what Alexander sees across fast food and fast-casual segments: just pushing people through the line.
"The difference is if you go into a restaurant and you go to the cash register, if you're the 12th or 16th person, they're just moving you though the line," said Alexander. "Now, the people are out front front are just talking to you. What we're able to do is increase and enhance the level of hospitality—that's the key point of difference."
As seen at Eatsa, the new Wow Bao location will feature a "concierge" to help customers through the process. During a visit to the original San Francisco location, the employee walked people through the ordering process and answered any questions from customers. At the tourist-heavy dinner hour last year, they were busy with people who were trying out the process for the first time. But at lunch, the single customer-facing employee was eagerly helpful, but mostly not needed for the lunch crowd that was acquainted with the ordering and pick-up system.
Eatsa reported the ability to get meals to customers in just 90 seconds, far faster than what Eatsa saw as the industry average of five minutes. It also reported the ability to drive 500 customers through the restaurant an hour; about five times the throughput than the average fast-casual restaurant, according to Eatsa. And through the regulated, automated process, Eatsa has been able to give near exact order pick-up times.
How this will all translate in the Wow Bao system remains to be seen, but Alexander said since he's already able to get customers though the ordering store in 54 seconds, it won't be drastic.
"So I can't say for sure it will take off time because we already are so fast. But it will enhance that guest experience," said Alexander. "The expediter isn't chugging through orders, so it's, 'Let's just talk.'"
One area where he sees some marketing and user experience gains is with third-party delivery. Now, when customers are in the location, they can see orders for Uber or DoorDash and be reminded that they can get delivery. And for the first location, it will also feature an outside window for pickup orders after hours—a quality of life thing for customers and employees during the busy bar rush in the area.
The final perk, is all the data flowing through the all-digital process.
"I think one of the things that is really valuable is in your average brick and mortar retailer, it's really hard for them to know who their customer is," said Young. "But having a digital system, were actually able to know the customer and know what their like and dislikes are and what they ordered last time, I cant wait for other brands to be able to take avenge of and create a more personalized experience for the customer which leads to a faster experience because it's tailored to you."
Watch for more Eatsa-empowered brands. Young said he's in talks with "more than one" brand and some larger players in the fast food and fast-casual segments.