There have been many articles written, sporadically timed, about the impending recession.  The timing of such a projection has been challenging.  During our Toroso investment committee meetings we too often discuss this risk as well as many others that can affect portfolio outcomes. However, recently due to the headlines about the yield curve, the issue is now at the forefront of so many people's minds, especially some of our ETF Think Tank members.
My name is Dan Weiskopf and I wear many investment hats. I am the developer of the Restaurant Finance Monitor Index. Separately, I am also a member of the Toroso Investment Committee and the ETF Strategist for the ETF Think Tank, a community of financial advisors focused on a client-centric approach to investing using ETFs. As a portfolio manager and strategist for the ETF Think Tank, I speak to financial advisors every day about portfolio construction.
Insights About How To Manage Through The Risks of Recession
Rob Isbitts wrote a targeted article on the recession issue which highlights the need for investors today to embrace risk management, not to move to portfolio extremes or time the market. According to Isbitts, market cycles consists of saving through long-term investment cycles and risk management according to lifetime goals.
What I found most fascinating about his article was the commentary about demographics. My thinking is that prognosticators seem to be ignoring how the new generations (Millennials, Generation Y, X and Z) will add to their income as part of the development of the Gig Economy. Meaning this: We know a recession will occur in the future, but we don't know how people will work through it. The new millennial generation will probably continue to work to add dollars to their pockets because that is their nature. 
This is part of why the Gig Economy is 42 million people strong and a new and established paradigm.
Nearly half—47%—of the U.S. adult work force is either currently an independent worker or has been so at some point during their career. Moreover, this number over the next five years is projected to grow to 52%.     The Gig Economy is also very important to the restaurant industry. Demand for food delivery services by Amazon, Uber, GrubHub are all made possible as an outgrowth of the Gig Economic business model and arguably driven by changes in long-term generational trends. My point in mentioning the Gig Economy is that paradigm shifts are occurring that make past recessionary experiences and savings rates different than what might be experienced in the future. In addition, what people often forget when discussions occur about investing, is that their largest investment remains their career and the value of those cash flows. I do not know the depth of the recession that we will see in the future. However, I would expect that the structure of today's economy is different than what it was in the past, and so is how people earn money independently for their lifestyle.
So Many Economic Business Trends Are Reflected In The Restaurant Industry
Many people are writing about the technical nature of a bond inverted yield curve, but the simple fact is that everyone with business experience has their own economic business indicators they monitor. My indicator is focused around the restaurant industry.
Personally, I believe the restaurant industry is a great reflection of consumer sentiment and thus economic strength. Moreover, the struggles of the restaurant business are transparent in same store sales numbers, average ticket, foot traffic and commodity prices. This is why I built the Restaurant Finance Index (IMENU), now the Restaurant Finance Monitor Index, and why signs of restaurant industry weakness could have been helpful prior to the last recession.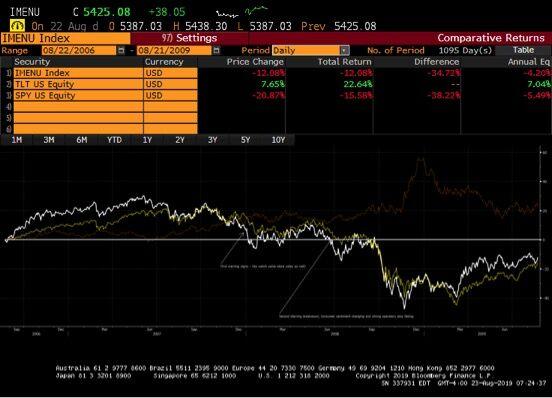 My point is this: Many ETF strategists and portfolio managers are too grounded in high-level macro decisions. However, as a portfolio manager who works with financial advisers, monitoring the restaurant industry from a bottom-up perspective helps keep me grounded in reality. The restaurant industry is unique in its ubiquity in how it touches so many lives on daily basis. It represents $863 billion in annual revenue, over 15.3 million employees, or 10% of the U.S. work force.
Reading The Tea Leaves From The Index Today?
So what is the Restaurant Finance Monitor Index telling us today? Readers should know that by design this index screens out weak performers and is 70% tilted towards Quick Serve Restaurants. Currently, it  holds 26 restaurant companies with six companies representing about 36% of the weighting in the index.  Skeptics may point out that it is but a small sample of the industry. Nevertheless, with the index currently stands at 5428.57 (August 23, 2019).I will be closely watching if it breaks 5,200 and then 5,000. The fact is that the index is up 19.69% YTD and 8.4% over the past year. 
The surprisingly strong performance of the Restaurant Finance Monitor Index in 2019 may be masking the reality of the struggles of the industry because of its tilt towards larger restaurant companies that rely on so much of their revenue from franchising, the so-called asset light business model. However, as a portfolio manager, I see the industry serving up some red flags with continued struggles in same store sales and foot traffic. Is this telling us something about consumer confidence or price sensitivity? Perhaps food delivery is impacting the industry.  As of August 8, TDn2K, reported that same store sales in the month of July were down 0.96% on 4% less foot traffic.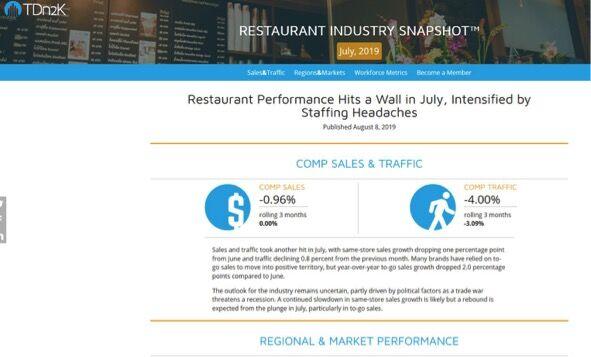 Conclusion:  Asking when a recession will occur in the U.S. is the wrong question. By the time an economist declares a recession it is probably too late to do much as an investor, and certainly too late for a restaurant operator.  Indicators of recession risk are helpful, but here is what  we know: The 13% compound return earned by some S&P investors is above historical average and we are late in the economic cycle. Headlines about trade wars, currency battles and market volatility are a recipe for social media excitement, but not a predictor of a recession.  My advice to all investors is to manage your investment risk as if it were your life's business. If you're uncomfortable about the risk you are taking you can manage it down incrementally. Just remember that holding an investment portfolio in this dynamic global world we live in carries the same risk as buying it that day.
P.S. Addendum: Curious readers who have made it to this point may find it interesting that the Index performance for the past 10 Years is 20.58% vs 13.36% despite many experts calling for a recession in the restaurant industry.
This article was written by Dan Weiskopf. The Restaurant Finance Monitor Index is the property of Access ETF Solutions and unaffiliated with Toroso Investments, LLC.. Past performance is not indicative of future results. It is not possible to invest directly in an index as it is used to represent market performance only. Indexes are unmanaged and do not reflect fees, expenses, or sales charges. The information provided is not meant as a recommendation for any security and the opinions expressed in this article are solely the opinions of Dan Weiskopf. The available information is from sources believed to be reliable—we cannot assure the accuracy or completeness of these materials. The information in these materials may change at any time and without notice. This article can not be relied on as investment advice and the comments are made in the context of the Index only.