Valentine's Day is one of the busiest days for almost every restaurant.
According to Earnest Research, a data analytics company, there are some major standouts when it comes to romance-related sales spikes.
It's a who's who of special-occasion restaurants on Valentine's Day; Romano's sees a 41% sales lift on the holiday, Red Lobster sees a 49% spike. Fleming's Prime Steakhouse & Wine Bar and Ruth's Chris straddle the 100% mark with a 99% sales spike and 107% sales spike, respectively.
Stephanie Vabre, a researcher at Earnest Research, put together a best-of list for weekly sales around Valentine's Day. She tapped into credit card processing data from 2016 to 2017 and compared weekly sales to a typical weekly sales figure.
She said there are two big things going on. The first is simple traffic—almost everyone goes out to eat on or around Valentine's Day. According to Open Table, reservations spike by 250% to 300% as everyone wines and dines.
But menu mix and add-ons can be key to getting the most out of the big day.
"Comparing average ticket during Valentine's Day week to a typical week, we see that for some restaurants, what diners are paying remains constant and sales are driven by increased traffic," said Vabre. "At others, like The Melting Pot, we see that larger bill amounts over the week of Valentine's Day contribute to higher sales."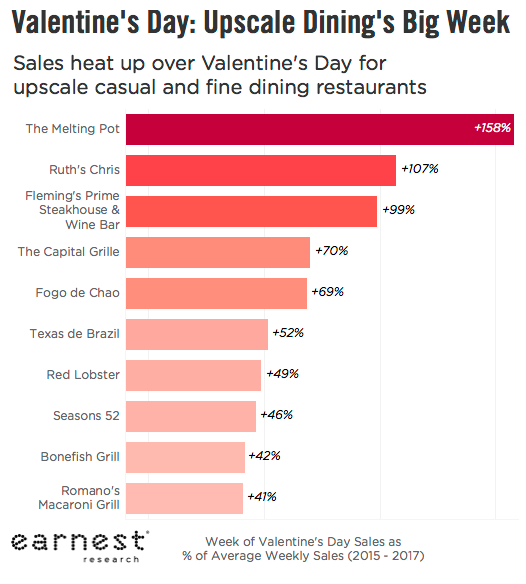 It's plain to see, Melting Pot does incredible business during the Valentine's week. It sees a 158% sales lift during the week. Traffic helps, but key specials like the "Lover's Delight," "Romance and Rose" packages and "Hearts Will Melt" event bring in from $69 to $99 per person with lots of a la carte items like roses ($15-$69), commemorative champagne flutes and chocolate-dipped strawberries that drive the ticket higher and higher. And those elevated prices come with little to no resistance. The entire week of special Valentine's events in Houston, for example, are sold out.
Casual dining operators should pay attention to what Melting Pot does, in an era of lagging traffic to casual diners, big days like Valentine's Day can help push tickets up with high-margin additions and specials with little thought about price.
Timing, however, is everything, according to the NPD Group's Checkout Analytics data set; diners spend a whole lot more when Valentine's Day lands on a weekend. Foodservice analyst Bonnie Riggs told CNBC that almost every category sees higher tickets when Valentine's Day falls on a weekend.
In her analysis, fine dining saw almost $40 more or $164 in 2016 when the holiday fell on a weekend compared to 2017, when it fell on a Tuesday.