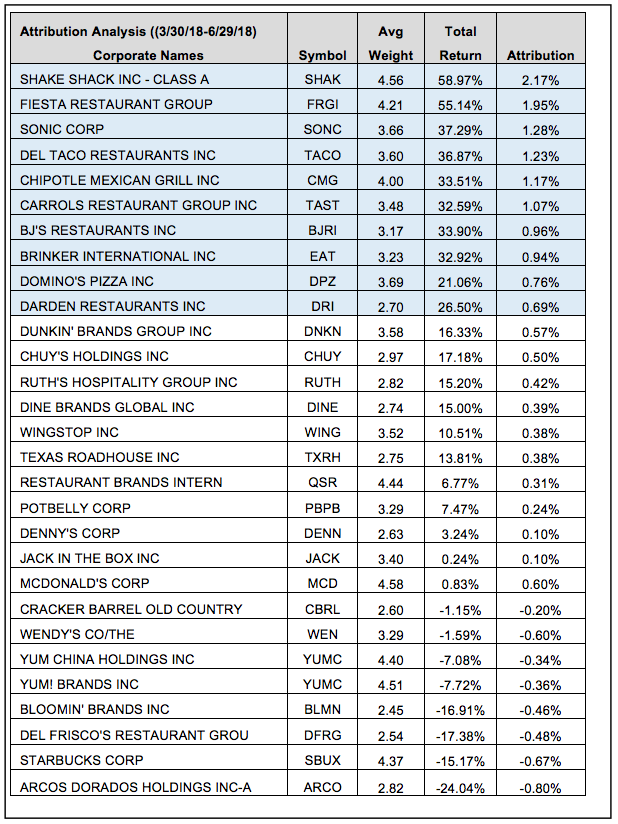 In this second quarter ending June 30, 2018, the value of the Restaurant Finance Monitor Stock Index increased 14.63%, which brings the YTD performance to 14.84%, including dividends. That easily beat the S&P 500 Index which gained 2.9% during the quarter. The strong stock market performance of the Monitor Index may have surprised investors. It was led by 10 positions, which in aggregate contributed roughly 12.2%. Further details are highlighted in the attribution chart below.
A quick glance at the performance (what worked and what didn't) for the quarter shows that McDonald's (MCD) was flat. McDonald's may be struggling internationally, as evidenced by the negative performance of its large Latin American franchisee, Arco Dorados Holdings (ARCO- $7.15) which was down 24%. Typically, it's not uncommon for the broader group to do well when McDonald's struggles, but in this latest index rebalance, the first quantitative index screen swapped Restaurant Brands International (QSR) in favor of Papa John's (PZZA). Given the embarrassing news out of Papa John's of late, this action has not helped the index at the start of this quarter, but the scoring formula dates back 10 years and is not a judge of character.  Point of fact, the index as of July 22, 2018, was up 2.5% while QSR is up almost 8%, and Papa John's is up a surprising 1.72%. The decision to sideline the parent of Burger King, Popeyes and Tim Horton's is interesting in the context of the historic rivalry between Burger King and McDonalds. However, issues at QSR are probably more related to poor relations with its Tim Horton's franchisees. We point to Tim Horton's because Carrols Restaurant Group (TAST) was up 32% in the quarter, which made it one of the top three contributors to the index return. Carrols is the largest Burger King franchisee.
Burger and pizza battles are always fun to track, but Mexican food was the real winner in the second quarter as Chipotle Mexican Grill (CMG) and Del Taco (TACO) were up about 34% and 37%, respectively. Sonic Corp (SONC) was also a large contributor to the index performance, adding about 1.28%.  Sonic's performance is interesting in that it operates as a public LBO (leveraged buyout) and has clearly benefited from the success of its asset light business and its loyal franchisees. Of course, many QSR (quick serve restaurants) have benefited by this asset light trend, but few have shrunk their outstanding share count by as much as 40%, as Sonic has.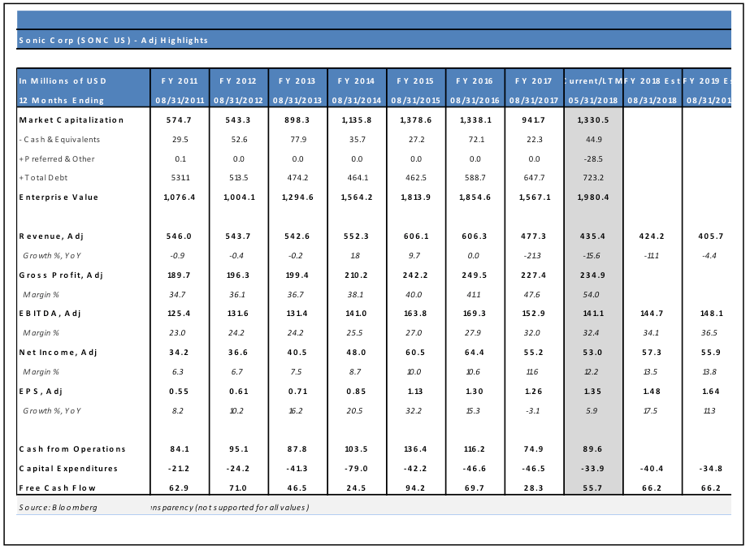 Cracker Barrell Old Country Store (CBRL) was sidelined from the index in the first screen due mostly to outperformance by its other FSR (full service restaurant) competitors.  Darden Restaurants (DRI), Del Taco (TACO) and Arco Dorados Holdings (ARCO) were also sidelined going forward. The quantities score mechanism is designed to look for relative underperformance and avoid disasters. The Second Dynamic screen sidelines the four remaining weak companies regardless of their QSR or FSR strategy. This is the reason why the index historically has sometimes been weighted at 68% QSR and sometimes at 72%.
We do not recommend investors, employees or management teams look to our signals as an indication that a company is having a systemic issue. These signals are more designed as a competition so that the "cream can rise to the top" and struggling companies can be sidelined so their impact does not dilute performance. The capital markets can be an efficient mechanism for identifying trouble. History is not an indication of future performance, but the scoring methodology should challenge those public companies which are struggling to keep up with the benchmark performance and could provide a benchmark for the winners to measure their success.
We think the index could be a source for stock proxy materials and for measuring private equity returns. In our judgement, there is no established benchmark in the restaurant industry and other indexes that are used are either market cap weighted and or not transparent with their methodology.   
For more information contact Dan Weiskopf at dweiskopf@accessetfsolutions.com.