Chipotle and Papa John investors bagged big stock gains in 2019. Chipotle's stock gained 94% for the year, on top of an already impressive 49% gain in 2018. Papa John's stock gained 59%, as the pizza chain recovered from the negative publicity brought on by the comments of its former founder and CEO, John Schnatter.
2019 might be considered an off year for public restaurant chains as only seven companies outperformed the outsized 28.9% return of the S&P 500 benchmark. However, the industry's stock market benchmark, the Restaurant Finance Monitor Stock index, weighted 70% in quick-serve restaurants and 30% in casual dining ones, returned 16.74%, an otherwise impressive performance.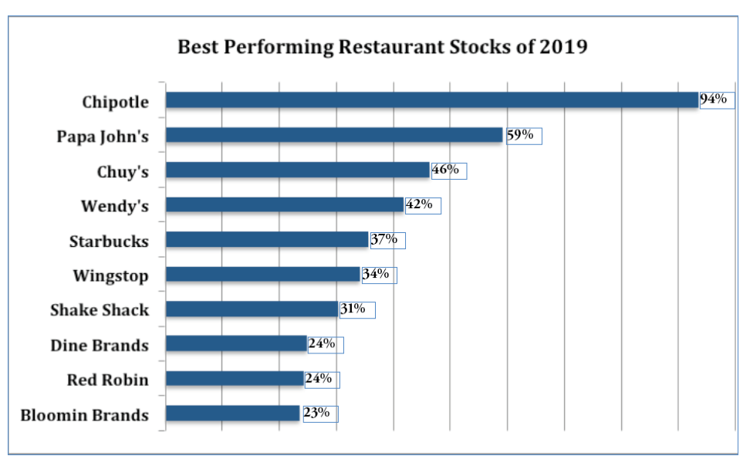 Chipotle Mexican Grill (CMG) +94%
Since Brian Niccol took over as CEO of Chipotle 21 months ago, the market capitalization of the 2,500-unit fast-casual chain has increased by $14 billion to $23.2 billion. Still, Chipotle's average unit volume isn't close to the peak volumes of $2.6 million per store it enjoyed prior to when its food poisoning problems began in 2015. https://ir.chipotle.com/news-releases?item=122376
Papa John's (PZZA) +59%
The original Papa John Schnatter is still squawking about getting dumped by his hand-picked board, but investors are excited there's a new sheriff in town in former Arby's chief marketer, Rob Lynch.
Activist Starboard Value's $200 million investment last March has shaken up the company and investors are excited about the potential for a sale. One possible buyer could be Arby's owner, Inspire Brands, a unit of private equity firm, Roark Capital. 
Chuy's Holdings, Inc. (CHUY) +46%
Positive traffic is unusual for casual diners, but the performance of this 100-unit cantina chain proves that customer value is still a big draw. Slowing down growth can also improve unit-level metrics, as the company is limiting new unit development to five or six restaurants per year.
Wendy's (WEN) +42%
Breakfast will be the big story in 2020 as the company joins a fast-growing, but crowded morning category, with its Breakfast Baconator and specialty coffee program. 
Starbucks (SBUX) +37%
Drive-thru and digital ordering are driving U.S. sales while the company just topped the 4,000-store mark in China.
Wingstop (WING) +34%
Analysts believe Wingstop's digital sales could rocket in the coming years and make it another technology juggernaut like Domino's Pizza (DPZ).
Shake Shack (SHAK) +31%
One of the few unit growth stories in the restaurant business drives the company's multiple, however comparable sales are under pressure as the brand moves away from its base of high-profile, big city stores.
Dine Brands Global (DIN) +24%
Declining comparable sales at Applebee's wasn't enough to sour investors on this highly-leveraged, asset lite name.
Red Robin Gourmet Burgers (RRGB) +24%
Investors smell blood as activists VIEX Capital Advisors and Vintage Capital have assembled an 18.3% stake in the beleaguered casual dining burger chain.
Bloomin Brands (BLMN) +23%
Investors are banking on the company being sold for a higher multiple than what is deserved for aging casual dining brands.