The inaugural Food On Demand Conference just wrapped up in Dallas, presented by Restaurant Finance Monitor's sister publication Food On Demand.
It was a day and a half of focused delivery discussions, data and strategy bringing together operators, third-party delivery firms and the vendors bringing the two together.
Wrapping up day two of the conference, a handful of analysts and stakeholders gave their views on the new wave of restaurant delivery and a little data to paint the picture.
Andrew Charles, Research Analyst at Cowen and Company
Andrew Charles updated his oft-cited examination of delivery for 2018.
His new projections based on current sales and digital delivery growth show the segment accelerating as technology gets better and delivery spreads.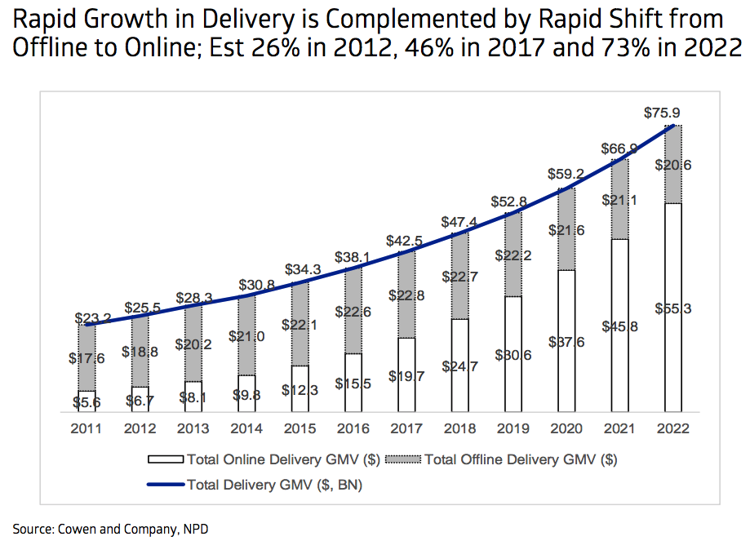 And there is plenty of room to grow the ecommerce penetration; all the money spent in 2017 represents just around 5% e-commerce penetration for the restaurant industry, which runs in step with grocery.
One note from Charles sparked a lot of discussion at the event, and operators are worried that these orders won't stay at the around 80% incremental mark seen in consumer surveys.
"I'm not naive, as more folks come into the space, the incrementally has only one way to go: down," said Charles. "As the incrementally is likely to come down, its important to see where profitability can be found."
This is a big, very key point. While it's true that delivery has been largely incremental so far, it's only incremental once. I.e. if the culture shifts to digital delivery as a larger frequency of restaurant use, it will likely mean fewer restaurant meals overall.
John Nicolopoulos, a partner and restaurant and retail sector leader at consulting firm at RSM who spoke later in the morning put it succinctly.
"If I order from you on Tuesday and I usually eat there on Friday, am I going there twice in the week?" said Nicolopoulos.
That's no good for restaurants that rely on high-margin beverage items or those on the razor's edge of profitability—and that's a lot of restaurants.
Jeff Brownstein, Founder of Dugg Burger
Those shifting sands of delivery were top of mind for Jeff Brownstein, founder of two-unit Dugg Burger, especially at his customization-first burger bar.
He started with DoorDash to "fish where the fish are" and saw immediate incremental sales in that 80% range and some nice marketing expansion. But customers wouldn't get anywhere near the restaurant experience.
So to take advantage of the shift to digital delivery and, he's creating a "virtual food court" to focus on things that travel well.
Using data from third-party providers, he saw that chicken sandwiches were on trend and saw them as a great way to unhinge delivery from the core Dugg Burger concept. Spinning it off allowed him to drive tickets up with high-margin add-ons like bacon and cheese, both of which are free toppings at Dugg Burger. Thus the Chicken Sandwich Project was born.
"We never achieved the results we did with Dugg. But we got enough results that were starting a couple other concepts," said Brownstein, who is now creating virtual taco and barbecue concepts since they travel so well.
The key, he said, was keeping the social media marketing at full blast. Without a brick and mortar, traffic depends even more on marketing.
Jason Hamilton, Product & Growth Leader at Snagajob
Snagajob is working on both ends of the gig economy, helping the third-party firms hire and helping restaurants tap into the gig mindset with it's HUSL platform. It works a lot like other gig platforms, shift-working employees go wherever they're needed, to fill positions in the case of short staffing, call-outs or no-shows.
"The idea was that we would help hostess, dish washers those places where overall grit and drive do a lot for you," said Hamilton.
As with the gig economy at large, ratings matter. Hamilton said that just a few basis points meant major changes in the effectiveness of getting a gig worker.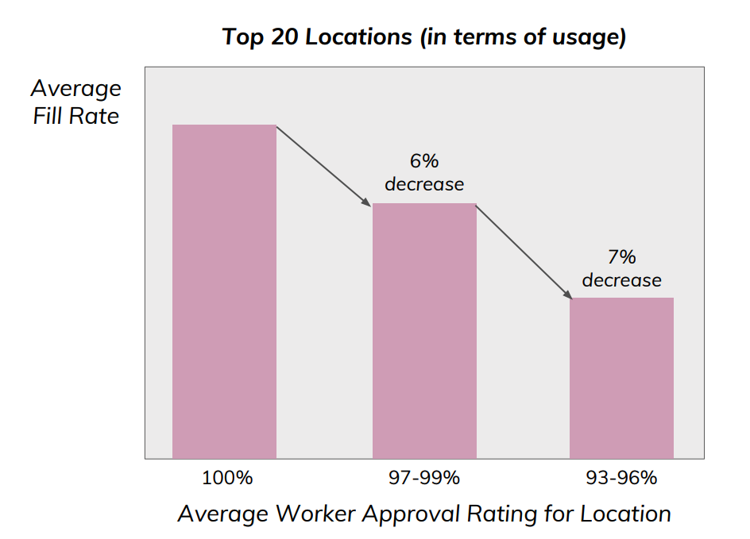 "Gig workers are a secret shoppers on your culture," said Hamilton. "These may not seem like big moves in your ratings, but they have a big impact."
Bonnie Riggs, Food Industry Analyst at NPD Group
NPD has been tracking all ends of the food on demand world, from grocery to C-store and meal kits. Each of those new competitors for the restaurant world are changing how people get food in general.
She started by addressing meal kits. Trial was just 3% in a consumer survey, and just over half of those stuck with their Blue Apron or HelloFresh saying it was too expensive. But the trend continues, with new players.
"Enter the game changers: You now have Amazon, Walmart, Aldi, Albertsons and small regional brands," said Riggs. "They're less expensive, easier to prepare and you an buy them on impulse."
Riggs also touched on the winners and losers in the growing digital delivery segment.
It's a mixed bag for those who are in the third-party delivery game. Delivery, she said, was up 8% year-over-year as of December. But taking pizza out of the mix, delivery is up 40% driven by Millennials and Generation Z.
"According to the census, those two age groups account for 51% of the pop, and they are going to drive delivery for a long, long way forward," said Riggs.
Their delivery traffic, however, is uneven—as seen in the slide below.
John Nicolopoulos, Partner and Retail & Restaurant Sector Leader at RSM
RSM's Nicolopoulos reiterated the major shift going on in the restaurant space.
"There are two paths, convenience or experience, and while people will go to both in their lives, the use cases are blurring faster than ever," said Nicolopoulos. "Very few people are going to be single channel buyers. "
That means restaurants need to execute both channels as well as the competition. 
"In a competitive environment you got to execute. That execution has to parley itself through delivery as well. I get the cold fries, we're willing to tolerate them, but only until someone figures out how to deliver them hot," said Nicolopoulos. "If everybody's fries are cold, that's OK, but if only your fries are cold that's a problem."
He said that means the same updates that happening inside the restaurant need to happen in delivery. As concepts change designs to be Instagram worthy inside, they need to give the same attention to their delivery meals. Sad fries and steamed hamburgers don't make a good picture.
Russell Baker, General Manager at Amazon Restaurants
Wrapping up the day with a glimpse into the megalithic disruptor was Amazon.
Russell Baker, focused on the ecommerce giant's "customer obsession" when it came to the quietly growing restaurant arm. Like every other aspect of Amazon, they've been doing many little things to create a better experience.
"One of the things we decided that we had to do was let customers know where is their food," said Baker. "It's one of the most common questions on delivery: 'When is my food is getting here?'"
They added a button to call the driver to make it easier to connect in those non-standard delivery situations. Another change just made it easier for consumer to do what they already did. 
"We moved the reorder to the top of the page we saw that people were reordering a lot so we moved it to the top of the page, this is simple stuff," said Baker. "We went one further, we added to Alexa, so they can just say, 'Alexa, reorder.'"
Watch the Monitor for a deeper dive into delivery trends in April.