By now, much of the worst flooding is over in Houston proper, but Irma and Jose may deliver another one-two punch to restaurant operators in the Southeast.
In Houston, many restaurants have reopened. There are many caveats as the more than four feet of water is routed away from the city center and through other communities, but the worst is over for most. That's a far cry from the scene just a week ago. Shoukat Dhanani, CEO of Houston Foods, a large QSR operator, said that things were grim. All of his 120 Burger Kings, 70 Popeyes.
"I've been though a lot of storms, but this is totally one of a kind," said Dhanani. 'It's a once in 800-year storm."
He said the first order of business was ensuring his employees were safe. And as the waters receded, he got some good news—or at least not as bad of news as he could have. Instead of finding out all his locations would be shuttered beyond a week, just four restaurants were still out of commission a week on, and just one Burger King had major damage.
"It's still got like five feet of water in the restaurant," said Dhanani. "It will be closed for at least three months. Not only going to have to fix all the building damage, but have to get brand new equipment package. So it'll be more like building a new restaurant."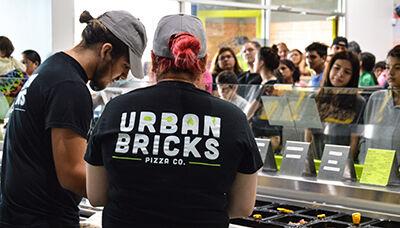 Sammy Aldeeb, founder and CEO of Urban Brick pizza, was among the many restaurateurs whose stores became full-time aid centers during the worst of the flooding. In the end, he gave away hundreds of pizzas until supplies ran out. That, he said, was the biggest issue, just getting ingredients into the area as the storm descended.
"We started off by catering to our first responders. But sure enough as we drove in the night before to help the team, we saw that we were going to need a couple more trucks of supplies. So we drove back to San Antonio because our supplier couldn't even make it," said Aldeeb.
He gave away 700 pizzas as the rains fell, running out of everything. He said the locations weren't heavily damaged and they are open again, but fixing the supply chain could take a while and labor has proved tricky as well. 
"In our Houston metro location, we are facing many struggles. Distribution is not the same as we are limited. The bigger hurdle is getting employees to the store as many streets are under water. Many parents have advised their kids to not risk going to work," said Aldeeb. "We do however continue on delivering free pizzas to shelters and first responders around our store."
Supply chain issues will certainly be a drag on all Houston-area operators. But what does the impact look like overall? Obviously for those shuttered restaurants, bills still need to be paid and any salaried employees will still get paid. But operators like Ali Dhanani, another Houston-area operator, said the lack of income for the whole region will be a lingering effect.
"I think the one of the biggest things is the people that are not working right now, their safety and their income has stopped. The city has shut down and everything has stopped," said Ali Dhanani, president of HAZA Foods, a Sugar Land, Texas,-based operator with more than 100 locations in the Houston and Galveston area. "It's going to have a huge effect on the economy."
Restaurant analysts say there will certainly be an impact, but it's difficult to predict. Those closed restaurants will obviously not help sales, but in a report, Baird analyst David Tarantino saw just a 1% impact on the third quarter for brands with a heavy penetration in the affected areas.
"While we expect restaurants in the path of the storm to experience a fairly meaningful negative impact on sales for at least a week, we also see potential for restaurants within the region to experience a healthy bounceback in same-store sales momentum as displaced residents return to their homes and as the region experiences an influx of workers for clean-up and rebuilding activity," wrote Tarantino. "Furthermore, for some chains, any lost sales from restaurants that were directly in the path of the storm (and are currently closed) may be offset in part by increased business in surrounding areas (e.g., Dallas), a dynamic that was evident for selected chains during prior storms (e.g., Hurricanes Katrina and Rita in 2005)."
He projected a 1% hit to sales at Chuy's (NASDAQ: CHUY), which has 43% of its restaruants in the affected area; a 1% impact for Zoe's Kitchen (NYSE: ZOES), which has 29% of the system in the area; a 1% impact for Jack in the Box (NASDAQ: JACK) which has 28% of the system in the region and a .8% hit for Wingstop, which has 35% of the system in the area.
Bonnie Riggs, the restaurant industry analyst for The NPD Group's foodservice division, said the post-weather bump is meaningful for big chains—small operators, however, will take longer to recover.
"When you've got a disaster like this, it's going to be the small chains and the independents that are going to be hurt. But the major chains have the corporate help with getting food in there and capital availability," said Riggs.
Getting up to speed fast benefits those players especially as they have a huge influx of aid workers and a local populous that either can't or doesn't want to cook amid repairs. After Sandy, for example, there was a month of traffic growth.
"In the month following Hurricane Sandy, visits to QSR increased by 2% then returned to the normal visit penetration of 80% per month," said Riggs, noting that much higher than average frequency pushes traffic way up. "When you think about visit frequency, initially you'll probably go two to three times a day."
Irma is coming fast, and while the cone of uncertainty is still wide, it will certainly affect restaurants. Those fleeing the path of the Category 5 storm are taking their business northward. A few brands will see the most impact.
Nearly 40% of the Fiesta Restaurant Group (NASDAQ: FRGI) system is in Florida, followed closely by Ruth's Hospitality Group (NASDAQ: RUTH) at 21% of the system and Bloomin' Brands (NASDAQ: BLMN) at 19% of the system, according to a report from Lynne Collier, an analyst at Canaccord Genuity.
So far analysts haven't projected how Irma or Jose could affect Florida and other East Coast operations.