Some of the largest public restaurant brands had a lot to say on the second day of the ICR Conference held earlier this week in Orlando. 
But the biggest news of the day came from outside the conference. Patrick Doyle, the turnaround artist behind Domino's incredible performance in the last several years, announced he would retire in June. There were, however, two dominant themes from the second day.
Delivery
Delivery is on everybody's mind, but presenting companies went back and forth on what this new wave of delivery disruption really means.
El Pollo Loco just completed an operations test and said it's encouraging, and because their chicken, rice and beans travel well, a 30-minute delivery time is not prohibitive. Wingstop is rolling it out market-by-market in late 2018 and early 2019. CEO Charlie Morrison said restaurants in an earlier test saw a 10% incremental sales lift. And he said they've largely solved the soggy fry problem.
"That was a modification of the fry processing, prepping them for a longer period of time. I think we perfected that," said Morrison, discussing how the in-store, scratch-made fries were tweaked in a proprietary manner but, "the simple answer is: we coated them with a little corn starch."
Others are just starting to really focus on delivery. Shake Shack CEO Randy Garutti said the results are promising, but it's early.
"We know people want Shake Shack delivered, we also know we have a lot of work to do it well," said Garutti.
Other brands are forging ahead with rollouts, like Jack in the Box.
"By the end of January, 58% of the system will be delivery enabled," said Jack in the Box CEO Lenny Comma.
The brand currently has DoorDash in more than 900 locations, Grubhub will hit more than 600 locations in that timeframe and Postmates will be at 1,200 locations.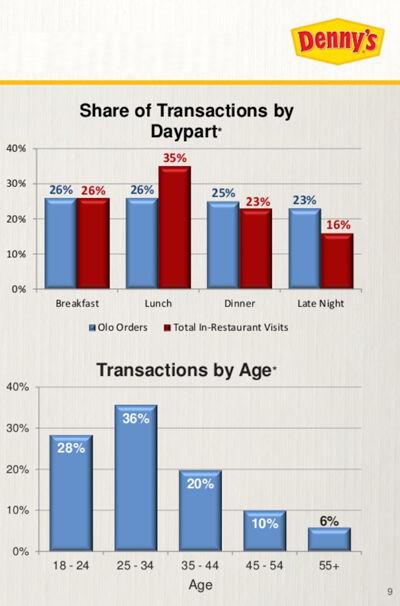 Denny's is still leading the casual-dining pack on delivery, which has become a major part of sales. According to the company, deliveries through the Olo system hover in the 20% range at all day parts, pulling ahead of traditional in-restaurant visits at dinner and late night.
Obviously, the demographics skew young, but the growing population of delivery among 35 and older continues to accelerate. Currently, 54% of the system is delivery enabled, with more locations coming online through 2018.
Of course, there were delivery contrarians. Del Frisco's President Brandon Coleman said because the company brands were so highly experiential, taking it out of the four walls is, "a disservice to us. Delivery is a big macro trend, but it doesn't fit our brand."
Similarly, Paul Murphy, who was named to the executive chairman role after leaving Del Taco said, "We're hoping that there's some consolidation in the space and it becomes more economical."
And Domino's CFO Jeffrey Lawrence had plenty to say about the delivery upstarts.
"It's not working. The world is not San Francisco and New York," said Lawrence. "The value proposition for the consumer doesn't work right now. It's certainly not working for the drivers."
He said the company is staying up to date and isn't dismissive of the new players, but have seen no material impact. He said "economics will win" on the consumer and driver front, where the labor equation gets difficult for delivery players.
"Drivers are not stupid, if you do it right, you can make two times these upstarts at Domino's," said Lawrence. "And that matters, you don't have to tell a driver how that works. It's a Grand Canyon-size gap in the economics, and I think economics will win the day. And I can promise we'll invest like hell to maintain that advantage."
To cap off the delivery discussion, Noah Glass of Olo and Gus Lopez, general manager of Amazon Restaurants, came at it from a high level. Neither, of course, think delivery is just another fad a-la the '80s-era Takeout Taxi. But they did have some caveats.
"Not all food is perfect for delivery, then there are all sorts of factors around how long its sitting there, how it's prepared. So we give a lot of feedback back to merchants. And they're very curious to hear it," said Lopez.
Glass said food quality, however, is no excuse for staying away from delivery.
"I think that that is used as an excuse for not engaging in delivery and is a bigger concern in operator's mind than it is to the consumer," said Glass. "When people order fries, they know it's not going to be the same. It's a need state thing, 'I want fries, so I'm going to eat delivery fries and that's OK.'"
As operations get better, Lopez said just like in retail, things are accelerating and "30 minutes is getting normal."
Capital Allocation
In addition to all the benefits from tax reform, there was a lot of discussion about capital allocation.
Del Taco CEO John Cappasola said they would be doing some share repurchasing. CEO John Miller at Denny's said, "We are consistently returning cash to shareholders through our share repurchase program."
Jack in the Box recently authorized another $200 million for share repurchases, and is slimming G&A going forward. Lenny Comma said he "expects G&A to be less than 2% going forward."
Domino's will continue to give money back via what Lawrence called a healthy level of debt.
"We have returned more than $4 billion to shareholders over the last 12 years with an acceleration in the last three years," said Lawrence, saying the brand would continue to stay highly leveraged. "We've done five recaps over an extended period of time. We are a great model to take leverage. It lowers our cost of capital, that's why we do it."
Fresh from their Reg A+ IPO (the first restaurant IPO since 2015) Fatburger said it expected to pay a dividend in 2018. But it's also on the hunt for more brands.  Immediately after the IPO, the company bought Ponderosa, Bonanza and is on track to acquire Hurricane Grill and Wings. President and CEO Andy Weiderhorn said it will compliment Buffalo's Café brand for a couple reasons. One, cobranded Fatburger and Buffalo's Café locations saw a 20% sales lift by offering specialized menus.
"We had wings in Fatburger for 20 years, but we didn't sell many. Since we added the cobranding, they became one of the best sellers," said Weiderhorn. "That really differentiates us as a burger group. We're the only burger player that also has a wing brand."
And he said the economies of scale push that benefit even further.
"We believe we can deliver three points to the bottom line in food costs because of our scale," said Weiderhorn. "That's why FAT Brands works."
Beyond those two big themes, many brands were talking about international growth outside of the tricky U.S. market and how to drive traffic through various methods—value being the dominant, but also with large parties and deeper experiential offerings.