Big promotions during big sporting events have become something of a cultural phenomenon. Ever since that Apple commercial (you know the one) these major media events have become a parade of advertising masterpieces.
But research from location-analytics firm Sense360 shows that if a company is spending big on a major sporting event, it's has an outsized impact on the team's local market.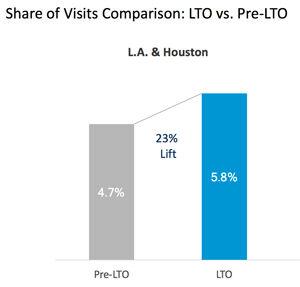 Examining Taco Bell's Steal a Base promotion during the World Series between the Los Angeles Dodgers and Houston Astros the firm saw that it drove 17% less traffic than the same promotion in 2016 when the Chicago Cubs made the series, but it did boost traffic. Nationwide, the promotion delivered a 12% lift compared to the pre-promotion period. But in the home-team markets of L.A. and Houston, there was a 23% bump in traffic.
"I think that speaks to the localized nature of these promotions. Yes, they're getting a national bump, but at the end of the day if you get a community interested and really drive a promotion, that resonates—the bang is just so much greater," said Eli Portnoy, founder and CEO of Sense360.
He said the type of guest by market was also very different. Nationwide, there were 10% additional visits from regular customers, and 14% more from new customers. But in those home-team markets, there were 18% more visits from regular customers and a whopping 45% increase in visits from new customers who got an eye and earful of the promotion during the Series.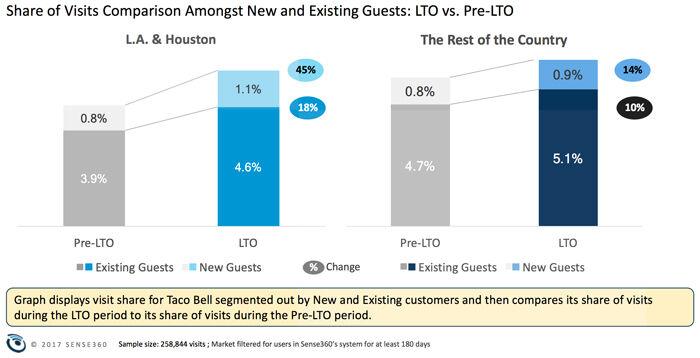 The bulk of the traffic came during the afternoon snack period due to smart promotion of 2 p.m. to 6 p.m. locally, overlapping with some of the games. It meant a 110% boost for the restaurants that didn't impact peak lunch timing.
Finally, it was a nice volley in the market share and value war that was just starting to get serious last November. Sense360 data showed that light users were especially drawn past competition during the promotion period. Taco Bell saw a 1.04% increase in share from light guests, pulled directly from competitors—as seen in the chart below.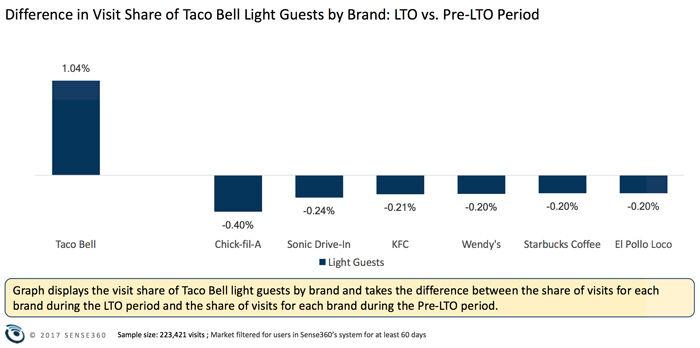 Portnoy said the data illuminates a few things around timely, national promotions, especially around big events.
"They've got to get creative to tie promos into big national events which is why we see it work better than almost any other type of promotion. I think the local tie in can be great and have an even bigger pop. Then it's just about looking at the metrics afterward to see if it ties back to the strategic goals," said Portnoy. "Doing what Taco Bell did is really important, you can't just sit still and maintain growth."
While it's probably too late for Super Bowl advertisers to change things up, brands should prepare for some big traffic bumps in Philadelphia and across New England as Eagles and Patriots fans soak up the coverage during the final two weeks ahead of the big game.